"Anyone who wants to be elected by us must come and kneel here and commit that I will never touch your land." – Zulu King Goodwill Zwelithini.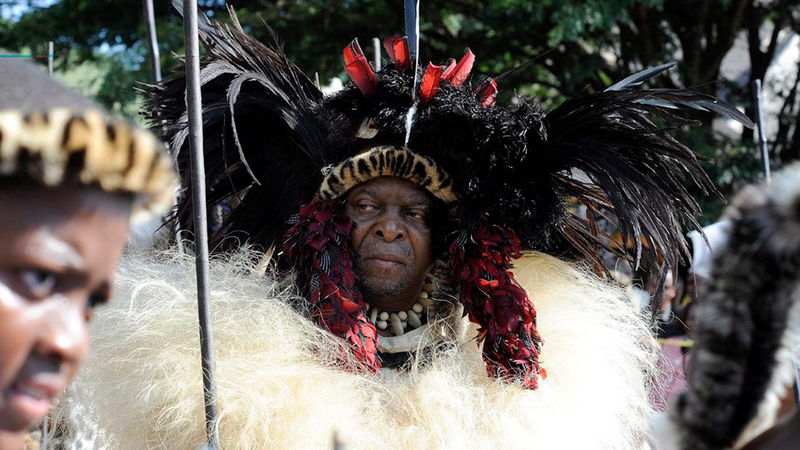 Zulu King Goodwill Zwelithini has announced a partnership AfriForum, intended to rebuff the government's land expropriation strategy.
Addressing a supportive crowd at the Moses Mabhida Football Stadium in Durban on 7 October, Zwelithini again reiterated his stance on the African National Congress' (ANC) plans to expropriate land.
The Zulu King denounced the government's plans to seize communal land – adding that the sovereignty of the controversial Ingonyama Trust must be protected at all costs.
---
Free signup to our Expat Match
…
just click
ExpatMatch.com
now !!
---
It's not the first time that Zwelithini has threatened the ANC in defence of the Ingonyama Trust – 2.8 million hectares of communal tribal governed by the King. Earlier in the year, the monarch stated that the Zulu kingdom would secede from South Africa, should the government attempt to expropriate his land.
AfriForum, a civil rights group generally associated with protecting the liberties of Afrikaners, met with the Zulu King earlier in the year to discuss issues surrounding the contentious topic of land expropriation without compensation.
Zulu King Zwelithini announces partnership with AfriForum. See video below:-
https://youtu.be/gwcO6-Hvmlo
---
Looking for a cosy place to stay in for a
weekend break-away
,
business
or just want to chill for your
holiday
?? Well, don't look further
Click Here !!
and start your search for that place – choose your destination and dates on the left hand side and click search!!
---
Looking for a cheap flight or would you like to rent a vehicle?
visit
SKY.co.za
now!
---
Would you like to advertise on this very popular website ?? Just drop me an e-mail at tersia@v.co.za, and I will tell you how !!
---